juin 1, 2022
A Small Business Guide to Personal Selling Techniques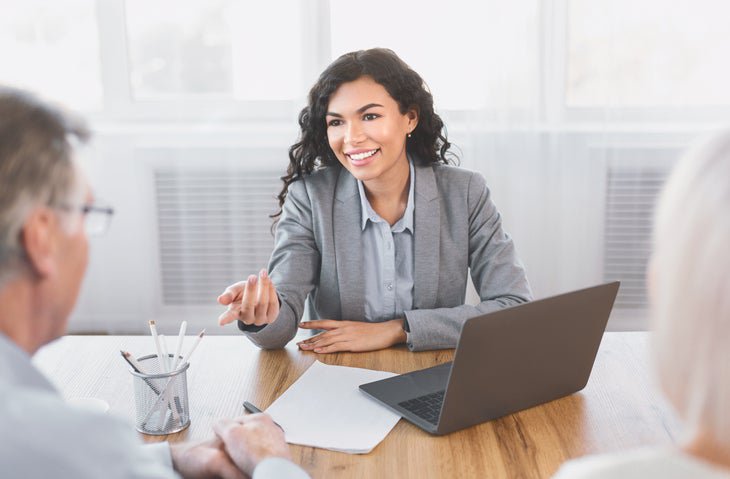 Personal selling is one of the most effective ways to secure prospects, especially in today's digital age. Find out how to develop and use this sales strategy to win more deals.
The way businesses sell today has transformed rapidly, putting less of an emphasis on the conventional way of selling, also known as personal sales. However, personal selling still occurs, despite digital marketing efforts aimed at capturing a buyer's sales journey. In fact, if you own a business, you'll find that personal selling might be the most effective way to market yourself and gain new investors and prospective buyers.
What does personal selling mean today, and how can you tackle this sales technique effectively? We'll walk you through all of the basics in this guide.
Overview: What is personal selling?
Personal selling is a selling technique that refers to face-to-face sales interactions. Personal selling refers to personal and sometimes one-on-one interactions between the salesperson or business owner and a prospective customer.
In today's marketplace, personal selling typically occurs more often in business-to-business (B2B) sales, though it can still be prevalent in business-to-customer (B2C) sales. Personal selling allows you to inject a sense of humanity into the selling process by directly relating to your customer, adding your own personality to a sales pitch, and forming relationships with prospects.
Personal selling used to always occur in person (think of door-to-door salesmen or salespeople who would travel directly to businesses), but can occur through email, over the phone, via videoconferencing, or in-person.
5 timeless personal selling techniques
There are many different personal selling techniques designed to help you win more deals and grow more professional relationships. Depending on your individual personality and level of comfort, you might choose one of the following techniques or combine a few to create your own hybrid personal sales strategy.
1. Know your market
In order to effectively sell to prospects, you have to first understand their industry, their unique needs and challenges, and customer demographics. Understanding your buyer's personas will help you better connect with them and create a pitch that's specifically tailored to uncovering solutions designed to save them time and money.
You'll also want to be able to articulate how your solution is better than the competition's, by focusing on how your product or service solves specific industry pains.
It can be helpful to research what your competitors are doing and how they are selling, so you can stand out from the pack by taking a different sales approach.
2. Identify the right leads
Marketing strategies can easily get you leads, but it's important to understand that not all leads are equal. Not taking the time to review your leads can lead to hundreds of hours of wasted time and effort pitching to the wrong prospects.
To understand if a lead is right for your company, you first need to establish in-depth knowledge about your ideal prospect. What industries are they in? How large are their companies? How do they sell to customers?
Once you can flesh out your target prospects' business characteristics, you'll be able to identify warm leads right away. Sales and marketing should work together to flag only the leads that are right for your business. Teaching marketing personal selling strategies can also help expand your sales team's effectiveness.
3. Engage customers with stories
Developing a rapport with your customers is particularly important in person-to-person selling. Customers want to work with personable, engaging, and intelligent partners, so bringing your sales pitch home with an entertaining story can help capture their attention.
Stories can help you stand out from the competition and allow you to connect with prospects on a deeper and more personal level. Telling success stories of how you've helped another company similar to the prospect's overcome a particular industry pain also allows your prospect to better understand the unique value of your company's offering.
4. Always add value
Being prepared with relevant content, case studies, and statistics can make a tremendous difference in a personal sales meeting. An effective salesperson might be able to engage with storytelling or conversational skills, but value statements can be equally memorable.
Touching on a key statistic that highlights your prospect's pain can help you build trust. If you're meeting in person, be sure to leave them with content that further adds value or direct them to your website, a video, or any other media source you think they'll find engaging.
Once a prospect realizes that you're an expert in solving this particular problem, they'll begin to see you as a source of value.
5. Frame yourself as a partner
There's something powerful about reframing your pitch from focusing on "I" or "me" to "we" or "us." The partnership technique encourages salespeople to use collaborative language when demonstrating their points, so the prospect feels like they have someone else working alongside them to overcome an obstacle.
A partnership is often a more impressive solution than a product or service. Partnerships allow your prospect to feel like they have someone in the fight with them, rather than a company looking to make a quick sale and split.
Personal selling examples
Some industries rely on personal selling techniques more heavily than others. Here are three industries that frequently benefit from personal sales.
Business consulting
Any company offering consulting services frequently must engage in personal selling techniques. Since prospects are buying a partnership to grow their business or overcome a particular problem, personal communication and developing a strong relationship will be key to winning a sale in this field.
Business consulting companies typically form long-lasting relationships with clients and will ultimately need to persuade prospects using personal selling techniques.
Software sales
Companies selling software often utilize personal selling methods. This is because selling software is more about selling a solution that will improve a company's workflow, while saving it time and money.
Selling software requires more than just asking a prospect to buy a program — software sales often have long implementation processes and ongoing business support needs that often grow when a salesperson makes a personal connection with the prospect.
Real estate
Purchasing property is a major milestone for individuals and companies alike. Any buyer new to the real estate market will want to form a professional relationship with a real estate agent they feel has their best interests at heart.
If you're in the real estate market, personal selling is unavoidable. You need to develop a trustworthy rapport with your clients, offer them valuable education and advice, and make sure to address their specific concerns when identifying properties.
3 best practices when personal selling
Developing strong personal selling techniques can take time and practice. Here are some tips to help you improve your personal sales skills.
1. Prepare in advance
Impress your prospects by making sure you know all your sales material up-front. Nothing is worse than a salesperson who has to read presentations word-for-word or who has to look up answers to your questions. When you know your material cold, you're able to relax more in personal sales meetings and engage in a more natural conversation, rather than rely on pitching techniques.
2. Be authentic
You've likely seen TV shows or movies with over-the-top salespeople. Selling involves building relationships and finding common ground with your prospective buyers. It's easy for others to spot when you're not being natural, so it's important to relax and be yourself. Some of the most persuasive salespeople can convince customers to buy from them simply by forming a relationship and subtly asking for a sale later on.
3. Focus on your prospect's needs
Traditional sales pitches might focus on a product or service and preach about how a prospect cannot live without it. However, if you really want to engage a prospect, focusing on their needs is one technique that has a proven track record. Customers don't necessarily want to hear about you, your company, or your offerings. They do however, love to talk about themselves and their own business needs.
Use this knowledge to your advantage and focus on the customer's specific pain points and obstacles. Ask questions about the challenges they're currently facing and how they've impacted business. Allow them to speak and feel heard while setting the stage as the solution to one of their professional problems.
Build relationships to help realize new sales opportunities
Personal selling can enable your company to build long-lasting partnerships and relationships that are mutually beneficial. Developing strong personal selling techniques, whether through email, phone, video, or in-person, can uniquely position your company as the expert in your industry.